Water Well Drilling & Well Services
Washington Township Michigan
Are you looking for highly-professional water well drilling for your Washington Township property? Or perhaps you're seeking specialized well water services? With over 50 years of experience in well water services and well drilling, Suburban Installers has earned a honest reputation that the local community has trusted since 1963.
At Suburban Installers, we provide our customers with a complete range of well water services, including well drilling, water conditioning, water purification, and installation of water softeners and storage pumps. Our years of experience and customer-minded approach has distinguished us among the top water well drillers in Southeast Michigan. To learn more, contact us online or call (586) 464-4500.
Water Well Drilling in Washington TWP
The outcome of water well drilling can vary significantly by the company doing the job. At Suburban Installers, we've evolved from the old days of using auger and cable tool drilling to now using rotary rig drilling. This enables us provide our customers with corrosion-resistant PVC casing, as opposed to steel casing. And unlike other Washington TWP well drillers that set the well placement just about anywhere on the property, we "witch" every well before drilling. This well witching process can help you get the most available water available from your property.
Beyond serving home owners and residential customers of Washington Township, we also provide water well drilling for farmers and agricultural producers, subdivision and property developers, golf courses, and more. We also help customers with specialized needs in diagnosing and replacing water wells when sediment, discoloration, and smells are present.
Well Services in Washington Township
At Suburban Installers, we provide customers of Washington TWP with comprehensive water well services. Some of the most common well services that we provide include:
Water Conditioning & Purification
Water Softener Installation
Storage Pressure Tank Installation & Inspections
Well Replacements & Pump Repairs
Acid & Mineral Removal from Water Wells
If your property is in Southeast Michigan's Washington Township and you have a need for any of our well services, please contact us online or give us a call at (586) 646-4500.
If you're constructing a building in Washington TWP that needs a water well, we encourage you to learn more about our water well drilling services. Investing in your own water well can drastically reduce city water bills during peak seasons. At Suburban Installers, our goal is to help Washington Township customers get the most from their investment, and sustain optimal water quality for many years.
Still can't find your answer?
Call us Today: (586) 646-4500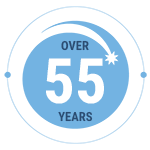 We're proud of our long-standing history and
well-earned reputation since 1963
Our policy is crystal clear. We will never compromise on the water quality or the health of your family. We have the finest reputations in the industry, built on quality and dependability.