Water Well Drilling & Well Services
Richmond Township Michigan
Over the 50 years of the company's existence, Suburban Installers has grown to become the local source for water well drilling and well services in Richmond Township and throughout Southeast Michigan. In addition to providing solutions for well drilling, Suburban Installers specializes in a complete range of well services, primarily in well water conditioning, purification, and water softener installation.
Since 1963, Suburban Installers has earned a reputation as Southeast Michigan's leader for well water services and well drilling. As a result of the company's customer-focused approach and quality-oriented processes, customers of Richmond Township rely on Suburban Installers for a wide range of solutions, including:
Water Well Drilling
Well Water Purification & Conditioning
Replacing & Installing Water Softeners
Eliminating Acid & Mineral Build-up from Wells
Storage Pressure Tank Inspections & Installation
Repairing & Replacing Well Water Pumps
Learn more about our Richmond TWP well water drilling and services, and contact us online or call (586) 646-4500.
Richmond TWP Well Services
Here at Suburban Installers, our team offers a comprehensive well services for our Richmond Township customers. Whether you're experiencing water that's smelly or discolored, or need to replace your home's water softener, we can handle a number of different needs.
Our company is able to provide well services and drilling for many different customers in Richmond TWP. Some of which include:
Residential Home Owners
Contractors & Builders
Subdivision & Residential Property Developers
Golf Courses
Farmers & Agricultural Producers
We at Suburban Installers are also able to provide well water services for other more specialized needs. Click here to learn more about some of the well services that we offer.
Water Well Drilling in Richmond Township
Before you hire just any water well drilling company in Southeast Michigan, it is key to understand what is involved during the drilling process. While some providers of well drilling in Richmond TWP set the drilling rig anywhere, at Suburban Installers we still "witch" every water well before we start drilling. This old yet effective technique enables us to tap into the greatest water source available from your property.
As well drilling technology has progressed over the years, our company has gone from auger and cable tool drilling (which traditionally uses steel casing) to now using the latest technology in rotary rig drilling. With this advanced well drilling system, we can install non-corrosive PVC casing that helps to maintain optimal water quality for many years. Our mission at Suburban Installers is to provide exceptional quality well water drilling services for our Richmond Township customers.
Still can't find your answer?
Call us Today: (586) 646-4500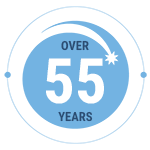 We're proud of our long-standing history and
well-earned reputation since 1963
Our policy is crystal clear. We will never compromise on the water quality or the health of your family. We have the finest reputations in the industry, built on quality and dependability.