Water Well Drilling & Well Services
Ray Township Michigan
At Suburban Installers, we represent one of Southeast Michigan's most experienced companies for water well drilling and well services in Ray Township. Since 1963, we've been providing Ray Township residents, developers, builders and contractors with exceptional well water services.
We at Suburban Installers provide complete well water solutions, ranging from water purification and conditioning services to installing/replacing water softeners and storage pumps. We have the resources, capabilities, and experience to provide comprehensive water well drilling for many Ray TWP customers, including:
Builders & Contractors
Residential Home Owners
Farmers & Agricultural Producers
Subdivision & Residential Property Developers
Golf Courses
If you would like to learn more about our water well drilling and well services in Ray TWP, contact us today or call (586) 646-4500.
Water Well Drilling in Ray Township
At Suburban Installers, we have acquired the latest advancements in water well drilling technology. Over the years, we have refined our well drilling process and have helped define industry best practices. Our focus is to help well drilling customers of Ray TWP to realize peak gallons per minute as well as the optimal level of water quality available.
Unlike other well drilling companies in Ray TWP that often drill the well just about anywhere on the property, we at Suburban Installers still "witch" every water well before drilling. This traditional yet highly-effective well witching technique can help you get the most water available from your Ray Township job site.
Our company has progressed from using an auger and cable tool drilling process to now using a more advanced rotary rig drilling process. With rotary rig well drilling, we can install non-corrosive PVC casing, as opposed to steel casing which is more prone to corrosion and potentially diminished water quality over time.
Ray TWP Well Services
At Suburban Installers, we provide residents, business owners, and developers of Ray Township with dependable and professional well water services. At the core of our company, we often help customers:
eliminate acid and mineral build-up from corrosive wells.
purify and condition wells for better quality water.
inspect and install storage pressure tanks.
replace and install water softeners and well water pumps.
Whether you're getting sediment coming through your faucet or need replace a sketchy water storage pump, we at Suburban Installers can take care of a wide range of well water needs.
If you are interested in Suburban Installer's well drilling or other well water services, please contact us online or give us a call at (586) 646-4500.
Still can't find your answer?
Call us Today: (586) 646-4500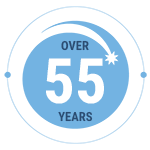 We're proud of our long-standing history and
well-earned reputation since 1963
Our policy is crystal clear. We will never compromise on the water quality or the health of your family. We have the finest reputations in the industry, built on quality and dependability.