Water Well Drilling & Well Services
Clinton Township Michigan
Suburban Installers has been the locally-trusted source for well drilling and well water services in Clinton Township for over 50 years. In addition to water well drilling solutions, Suburban Installers also specializes in a wide array of well services, such as water conditioning, purification, and water softener installation.
Since 1963, we at Suburban Installers have grown to become Southeast Michigan's leader for well water services and well drilling in Clinton TWP. As a result our customer-focused approach and quality finished outcomes, many Clinton Township customers depend on our team for a number of different solutions, including:
Water Well Drilling
Well Water Purification & Conditioning
Eliminating Acid & Mineral Build-up from Wells
Replacing & Installing Water Softeners
Storage Pressure Tank Inspections & Installation
Repairing & Replacing Well Water Pumps
If you're interested in learning more about our Clinton TWP well water drilling and services, contact us online or give us a call (586) 646-4500.
Clinton TWP Well Services
At Suburban Installers, we provide our customers of Clinton Township with a complete range of well services. Whether you're dealing with smelly or discolored water, or need a new water softener installed, we provide a number of highly specialized well services for Clinton Township customers.
Our professional team at Suburban Installers offers years of experience providing well services and drilling for many different Clinton TWP customers. Some of the parties and projects that we commonly help are:
Residential Home Owners
Subdivision & Residential Property Developers
Golf Courses
Farmers & Agricultural Producers
Ponds & Other Special Projects
Suburban Installers also provides well water services for countless other specialized needs. Click here to learn more about some of the well services that we offer.
Water Well Drilling in Clinton Township
Before you hire just any company in Southeast Michigan for your well drilling needs, it's important to understand what goes into a proper well drilling process. Unlike other well drilling service providers in Clinton TWP who just back up the drilling rig anywhere, we "well witch" every water well before we start drilling. This allows our team to tap into the greatest water source available from your site.
As well water drilling technology has evolved over the years, we progressed from auger and cable tool drilling (that traditionally uses steel casing) to incorporating the latest rotary rig drilling technology that installs non-corrosive PVC casing. Our mission at Suburban Installers is to provide exceptional quality well water drilling services for our Clinton Township customers.
Still can't find your answer?
Call us Today: (586) 646-4500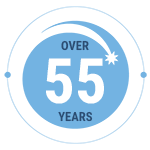 We're proud of our long-standing history and
well-earned reputation since 1963
Our policy is crystal clear. We will never compromise on the water quality or the health of your family. We have the finest reputations in the industry, built on quality and dependability.