Water Well Drilling & Well Services
Bruce Township Michigan
As Southeast Michigan's leader for water well drilling and well services, Suburban Installers is a trusted provider for Bruce Township residents, builders, developers, and other customers needing top quality well water services.
Our team at Suburban Installers offers a wide range of well water solutions, spanning from water purification and conditioning to replacing and installing water softeners and storage pumps. We've been serving the Bruce TWP area with reliable water well services for over 50 years.
If you would like to learn more about our well drilling and water well services in Bruce TWP, contact us today or call (586) 646-4500.
Water Well Drilling in Bruce Township
At Suburban Installers, we have adopted the latest advancements and technologies to provide highly-professional water well drilling and pump services. By refining our process with the latest technologies and best practices in the industry, we help our Bruce TWP well drilling customers to realize peak gallons per minute and the best quality of water available.
We at Suburban Installers have transitioned from using an auger and cable tool drilling process to adopting a rotary rig drilling process. This allows us to install non-corrosive PVC casing over the old fashion option of steel casing (which can later lead to a host of corrosive issues that can degrade water quality.)
Unlike other providers of water well drilling in Southeast Michigan who drill the well just about anywhere on the property, our team at Suburban Installers uses time-honored "well witching" before drilling. As a result, we can get the most water available from your Bruce Township property. Our mission is to provide water well drilling services that result in outstanding outcomes.
Bruce TWP Well Services
At Suburban Installers, we offer Bruce Township residents, business owners, and developers with a complete spectrum of well water services. We help to:
purify and condition wells for better quality water.
replace and install water softeners and well water pumps.
inspect and install storage pressure tanks.
eliminate acid and mineral build-up from corrosive wells.
Whether you're seeing sediment in your well water or need replace an old water softener, we at Suburban Installers handle virtually all of your well water services.
If you reside in Bruce Township and are interested in well drilling or other well water services, contact Suburban Installers online or give us a call at (586) 646-4500.
Still can't find your answer?
Call us Today: (586) 646-4500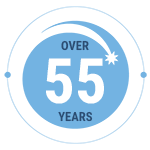 We're proud of our long-standing history and
well-earned reputation since 1963
Our policy is crystal clear. We will never compromise on the water quality or the health of your family. We have the finest reputations in the industry, built on quality and dependability.